ARCH ENGRAVING's BLOG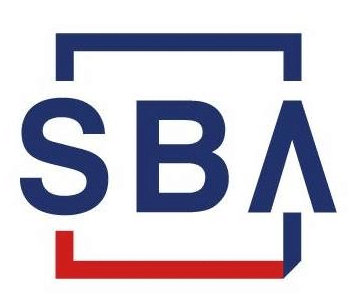 WE ARE THE SBA'S VETERAN-OWNED BUSINESS OF THE YEAR FOR EASTERN MISSOURI!
Posted 5/10/19
Each year, in preparation for Small Business Week, the SBA accepts nominations for businesses in a variety of categories ... Start-up, Women-Owned, etc. Thank you to our banker - Jared Howe of Midwest Regional Bank - who nominated us. We were lucky enough to be selected. Along with all the other winners, we participated in the awards ceremony on May 6 at the Renaissance St. Louis Airport Hotel.
The SBA did a tremendous job, hiring photographers and a video team to visit each winning business and creating a video for each one. The luncheon banquet and celebration was top notch with a full crowd in attendance.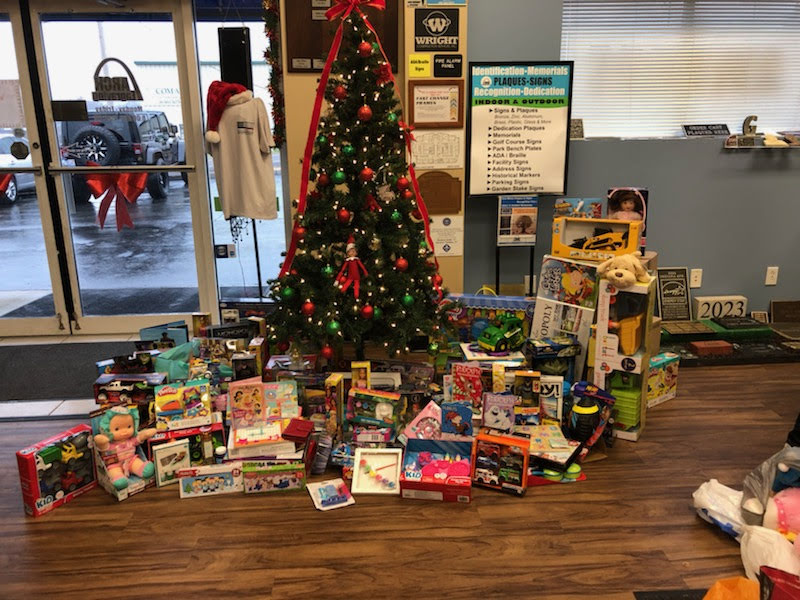 OUR 2018 TOY DRIVE FOR STL CHILDREN'S HOSPITAL WAS A SUCCESS!
Posted 12/21/18
Last year, 2017, we did our first-ever toy drive for Cardinal Glennon Children's Hospital, and we collected 120 toys. We then set a goal of doubling that number to 240 for 2018.
This year, we collected 240 toys - our target number exactly - for STL Children's Hospital!
MANY THANKS to our customers, team members, suppliers and friends for helping make the holidays just a little brigher for a whole bunch of kids!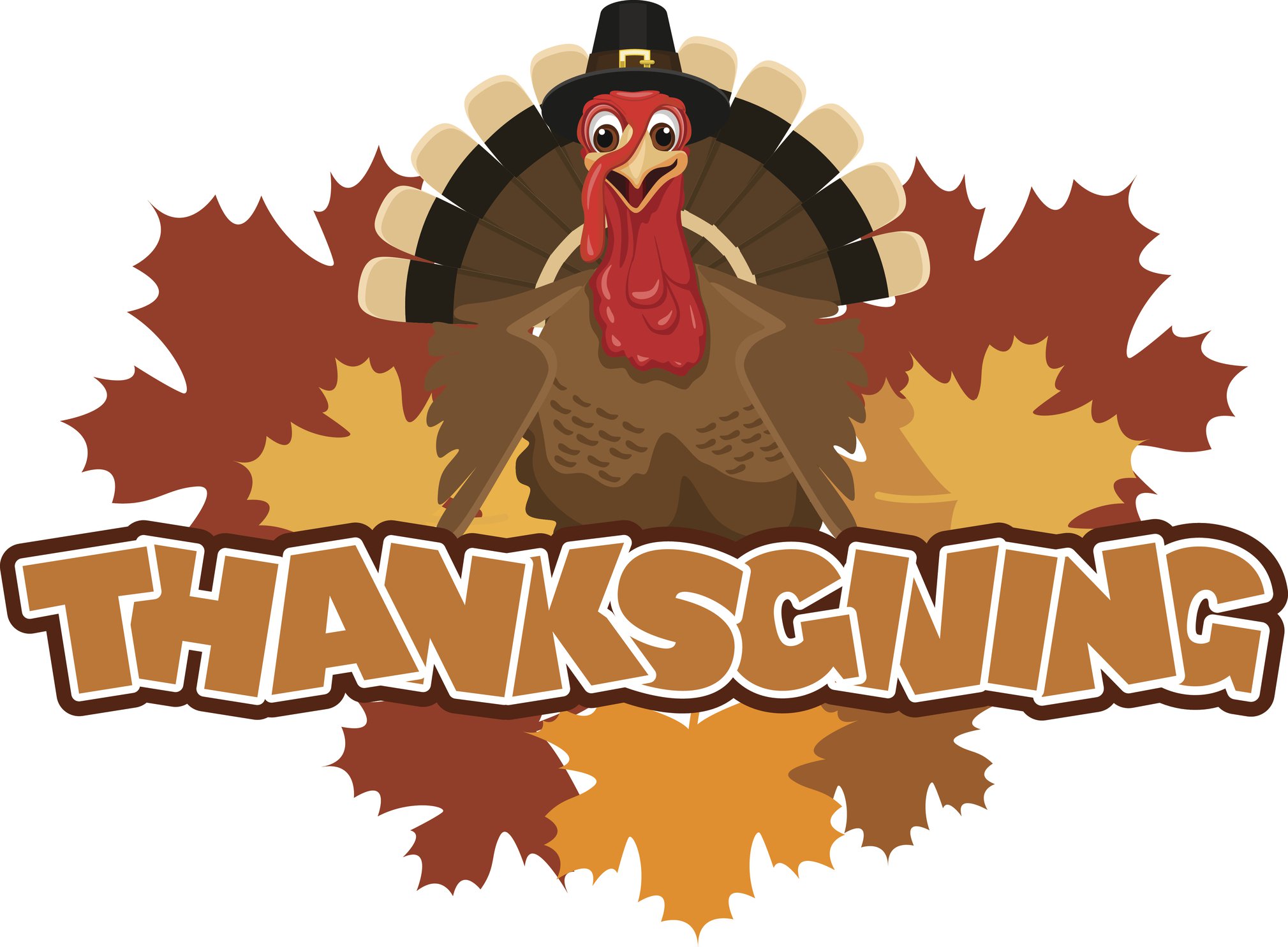 HAPPY THANKSGIVING!
Posted 11/8/18
3 items to note:
1) We will be CLOSED on Thanksgiving day 11/22 & also on Friday 11/23.
2) At our Fenton location, our team will enjoy a Thanksgiving lunch on Thursday 11/15 from noon-1:00 pm. If possible, please avoid coming to our Fenton office during that time. But be aware that if you do, you'll probably be forced to join us for a piece of pie!
3) Now that the holiday season is upon us, PLEASE get your Christmas and other holiday orders in as early as possible!
We are thankful for our team members, customers, suppliers and other friends, associates and partners!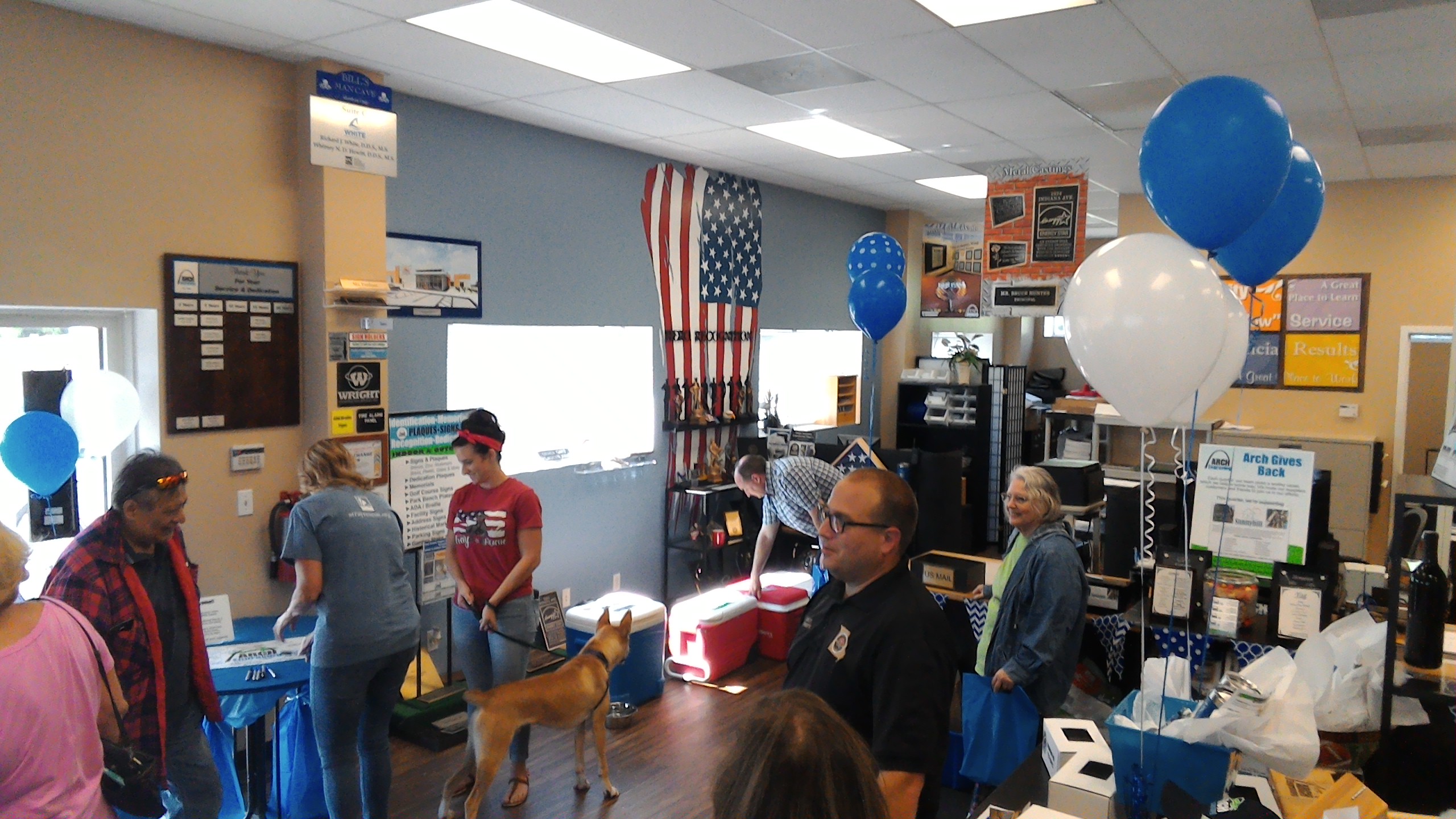 OUR 50th ANNIVERSARY EVENT
Posted 9/26/18
THANK YOU to all who attended, sponsored or played any role in helping make it A BIG SUCCESS!
With the help of our sponsors, customers, suppliers, friends, donors & employees we raised $3,000 for Backstoppers!
See our 50th Anniversary page for more photos and info.
---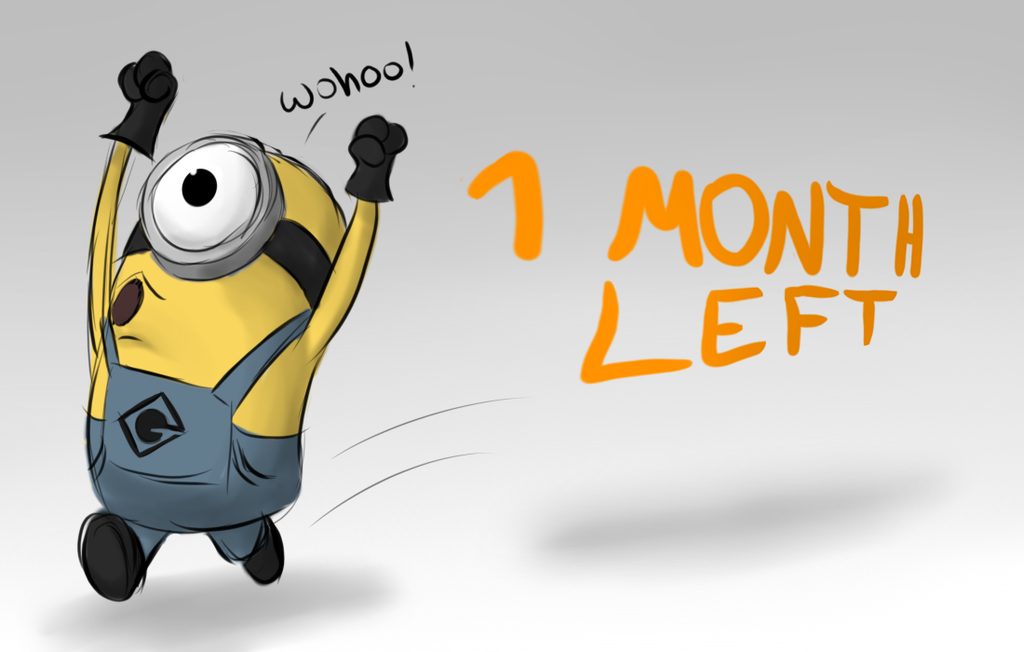 ONLY A MONTH UNTIL OUR ANNIVERSARY PARTY!
Posted 8/20/18
YOU ARE INVITED and if you haven't RSVP'd yet, please do. We want to have the right amount of food! Just order a FREE ticket here!
Mark the date: 9/20/18.
Interested in being a sponsor to help raise money for The Backstoppers? On the same page, you can choose a $100 sponsorship or simply purchase 1 or more special commemorative T-Shirts for $20 each. Either way, you're helping the Backstoppers!
---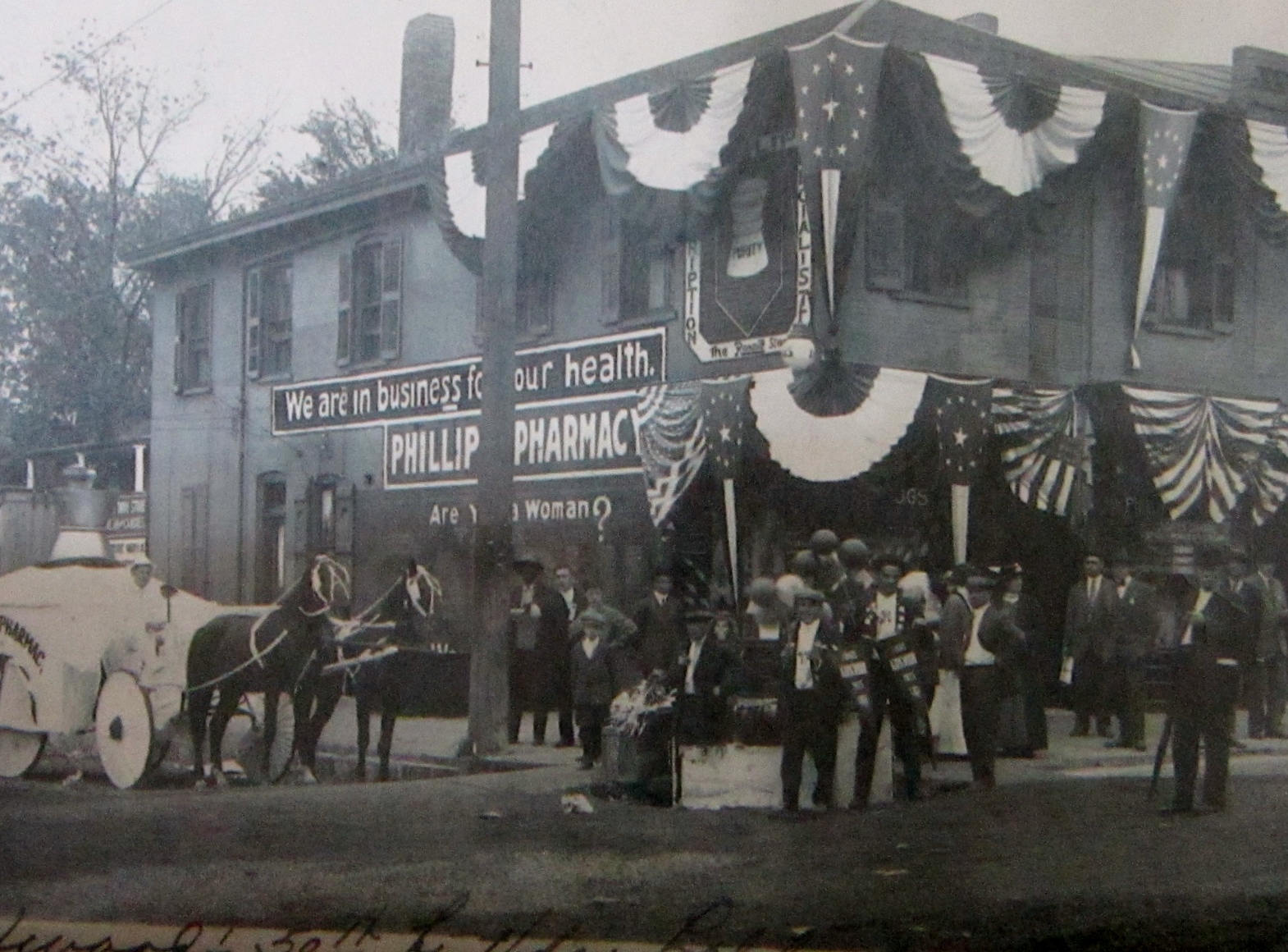 OUR KIRKWOOD ROOTS!
Posted 7/18/18
With all our focus on our 50th anniversary, it's important to remember where Arch Engraving got its start: Kirkwood.
Arch started at 106 N. Kirkwood Road, just a half block from the train station. Back then, it was a 1 story building and Arch founder Fred added the 2nd story. We were in that building through 2010 and it's now occupied by the Junior League.
In 2011, we moved our Kirkwood location to 203 N. Kirkwood, at the corner of Jefferson Ave. That building is shown at left in 1915 (WAY before Arch got started), and we've been told that is the oldest building in Kirkwood and was once the Town Hall.
Since early 2017, our Kirkwood showroom is at 219 S. Kirkwood Road, just a block south of city hall.
Once in a while, a Kirkwood customer will ask "Why do you move so often?" Our response? "We've only had 3 Kirkwood locations in 50 years!"
Our Kirkwood roots go deep. We got lots of great, loyal customers and friends there and we'll always be part of the Kirkwood community. If you're in the St. Louis metro area and haven't recently visited the Kirkwood area - whether for shopping or going out to eat - be sure to do so soon. And while you're there, please visit our showroom!
---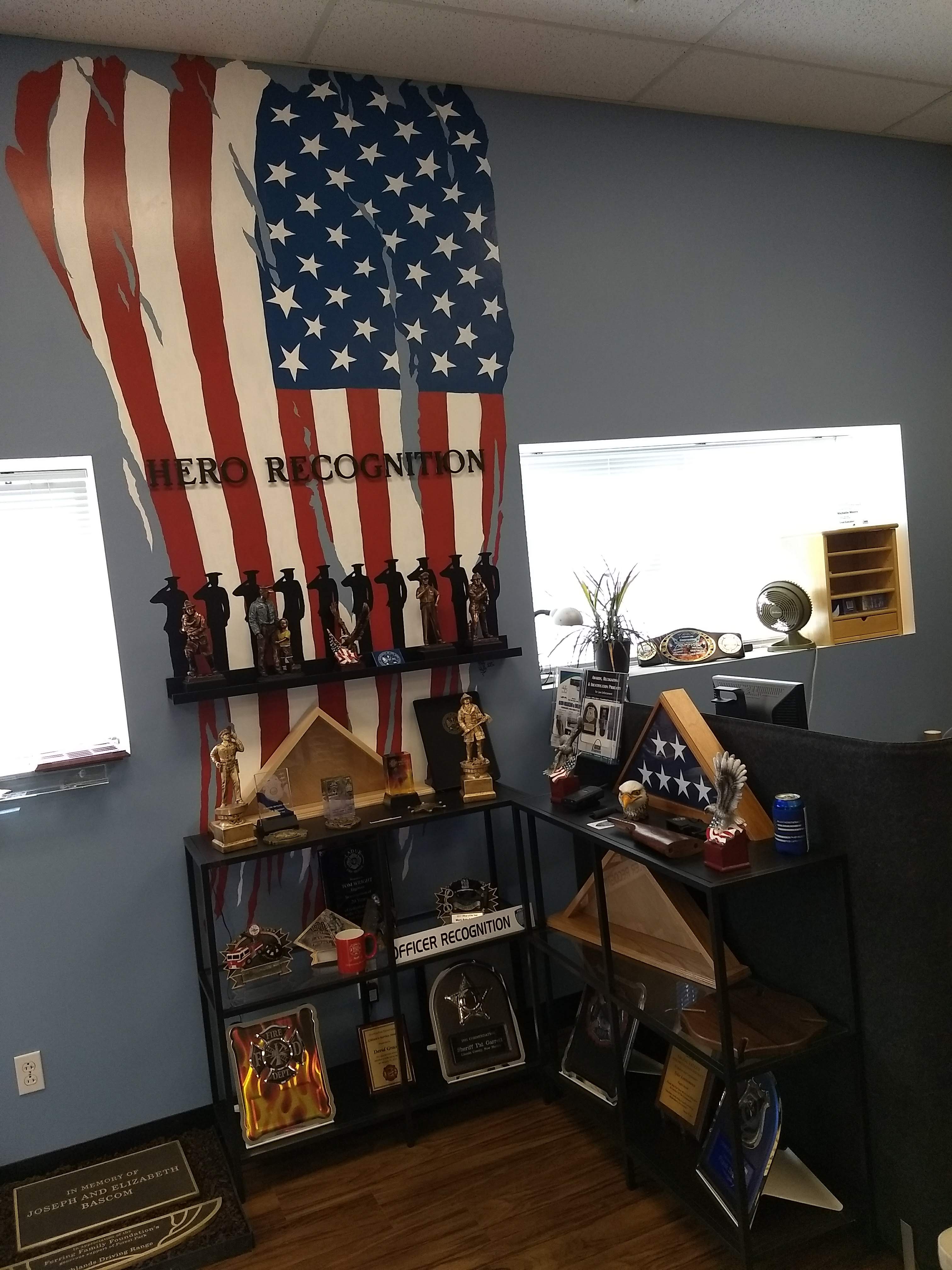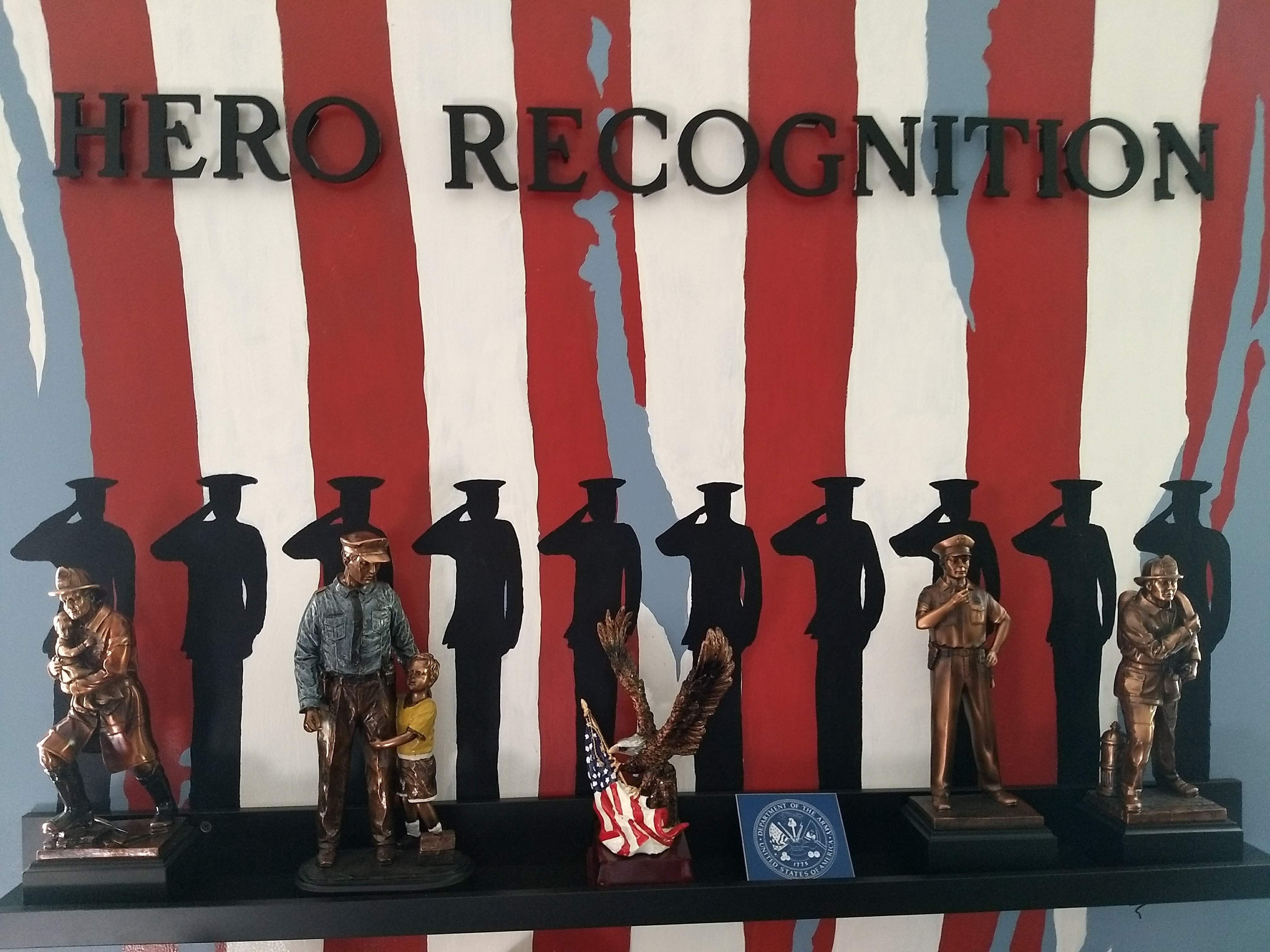 HERO RECOGNITION!
Posted 6/28/18
We've added a Hero Recognition Corner" to our Fenton showroom! This area features the beautiful American flag mural you see at left, painted directly on our wall by our own Holly and her husband Brian (Brian's a U.S. Army veteran and a talented artist.) We have a large and growing line-up of awards and recognition items specifically for active duty military, retired military, law enforcement/police, fire fighters, EMS/EMTs and even K9 officers displayed in this area.
The shadow saluting heros are painted on the wall, and the words "HERO RECOGNITION" are 3-D laser-cut acrylic letters mounted on the wall, in front of the mural.
With both Memorial Day and Flag Day in recent memory and Independence Day approaching, please thank the veterans you know, and also remember to thank our local First Responder heroes.
---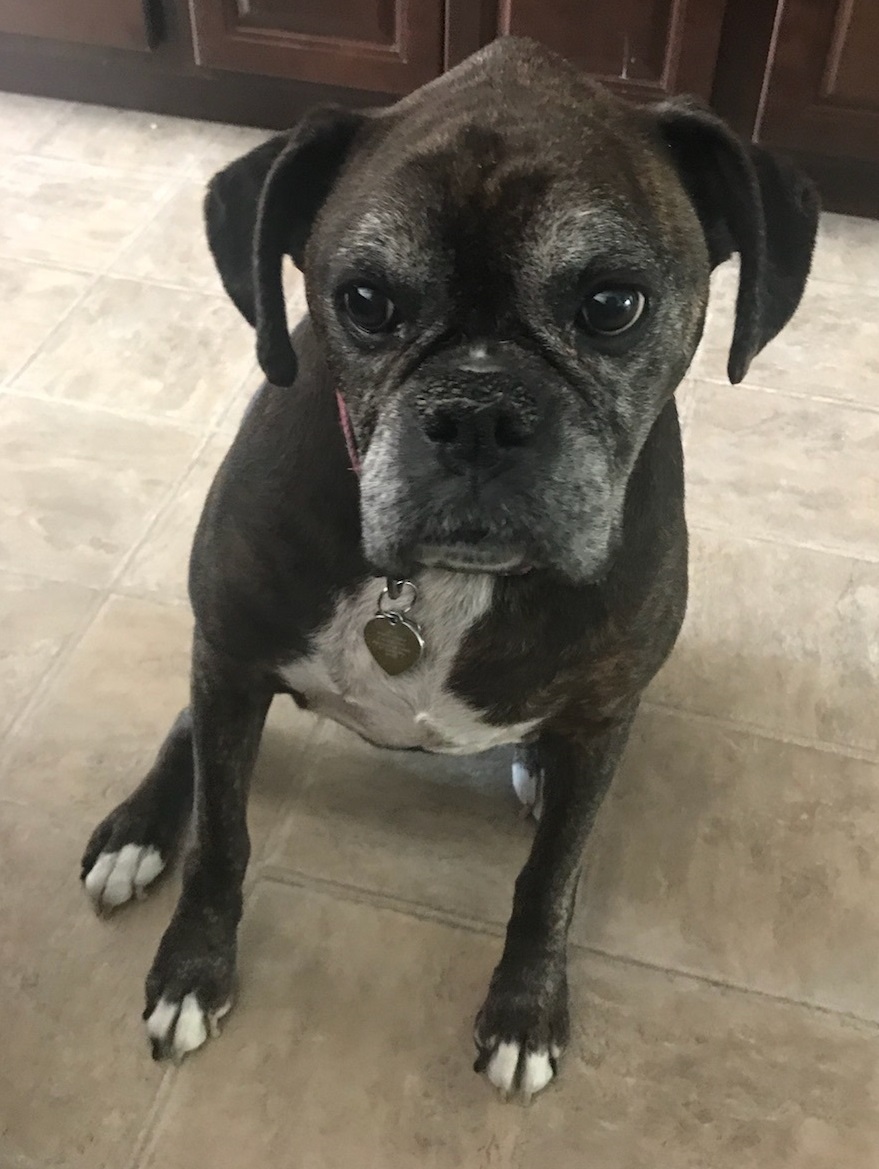 ARCH IS GOING TO THE DOGS!
Posted 5/17/18
Lots of businesses are dog-friendly, so seeing a dog in a business is not big news. At Arch's Fenton location, some of our team members periodically bring their dog in for the day. We've had one or two customers who weren't quite as canine compatible as us, and they were startled - even though each dog we host is calm. So if you plan to visit us at Fenton (and we invite you to do so often) and if you are either allergic or afraid of dogs - please call in advance at 314-966-8800 and we'll make sure Fido is kept safely away from our showroom while you're here.
Katie's dog Lacy is shown. She's a 10 year old boxer and is a sweetheart.
By the way, Fenton visitors will also notice that we often have kids in the office. Bill & Joyce's grandsons ages 4 thru 8 can often be seen (and heard!) at our Fenton location.
If you bring your small kids to our Fenton office, you'll find a few books and toys to keep them occupied while you're visiting, and bottles of water are always available. If we forget to offer, please ask.
And, if you're at our Fenton location and your calm, friendly dog is in your car ... please bring him or her in so we can meet.
---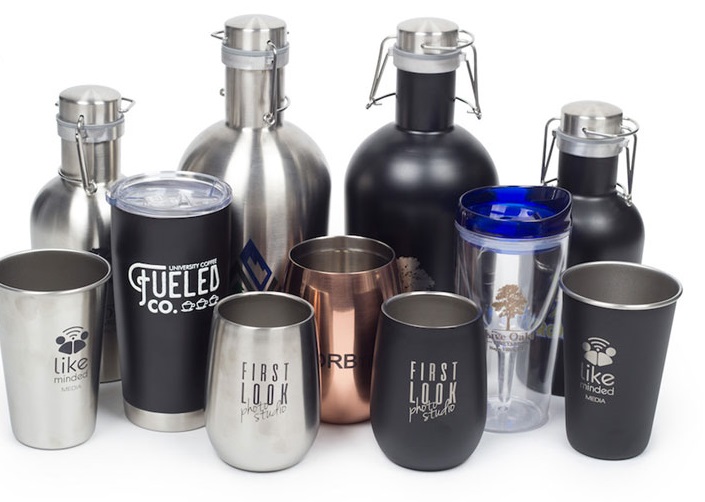 DRINK UP!
Posted 4/16/18

When Arch was founded in 1968 and well into the company's history, gifts were a very small part of what we did. Not any more! Personalized gifts for both personal and business use and for business have turned into a signifcant chunk of our business in recent years. Drinkware is always a popular gift and we've jumped into that market with both feet! Some of the great gift items you can find at Arch include:
Stainless steel tumblers (think YETI, but we have our own almost identical brand.)

Copper mint julep cups

Beer Growlers (those are the big things you see in the photo with the snouts and lids)

Stainless steel pint glasses

Engraved glasses of all kinds ... wine glasses, beer glasses, shot glasses and more

Plastic imprinted cups

Coasters and coaster sets made of wood (including bamboo), ceramic and other materials

Wine gift sets including wooden gift boxes, wine tools, openers, etc. (and we can engrave on YOUR wine bottle or glasses)
If you need a gift, it's hard to go wrong with drinkware. Whether you need one for a special occasion or 1,000 to use to promote your business ... give our sales team a chance to help you pick out the perfect item.
---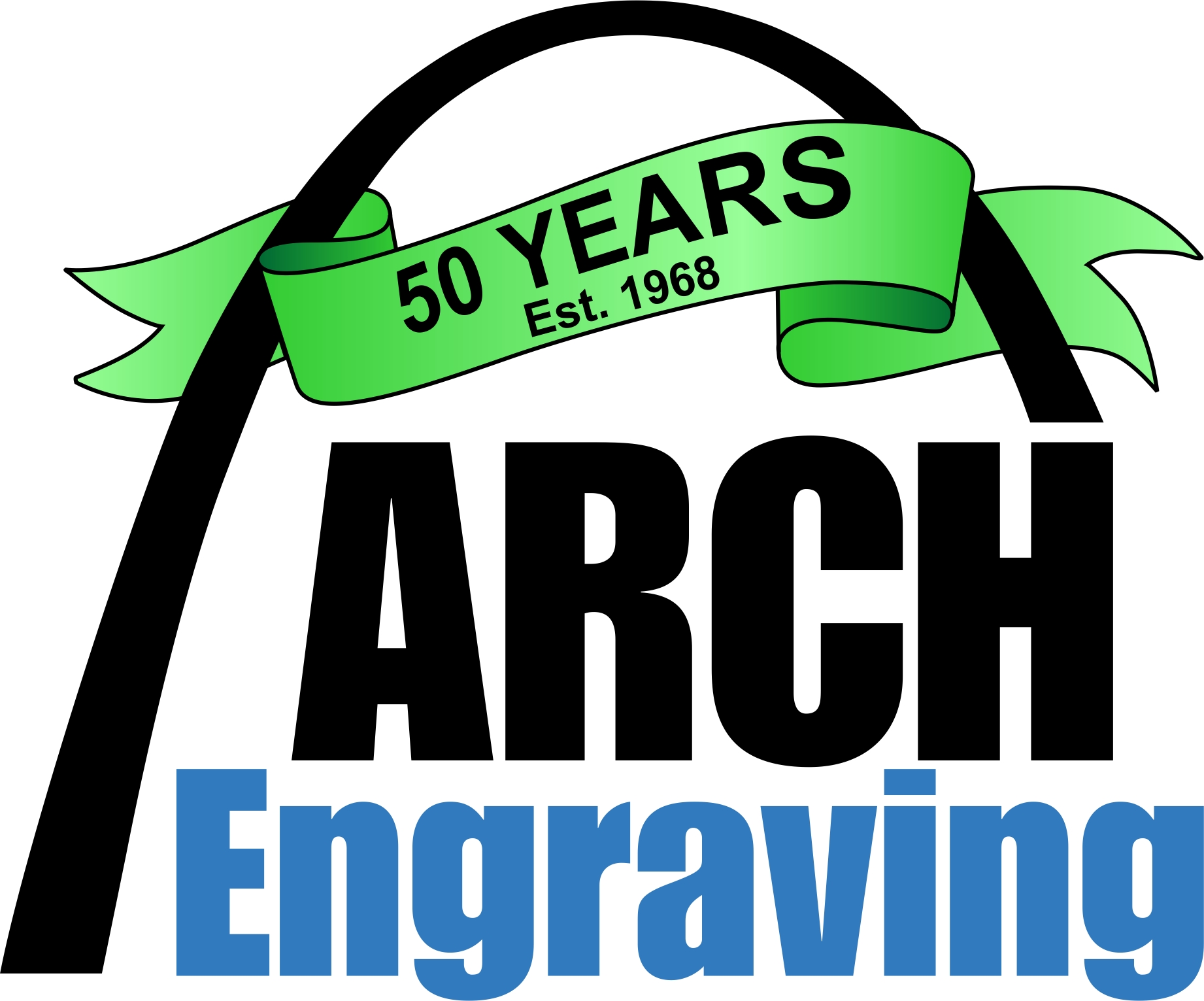 IT'S OUR BIRTHDAY - ALL YEAR!
Posted 3/1/18
It's certainly no secret that we're excited about our company turning 50 in 2018! Current owners Bill & Joyce Collier have "only" been at the helm since 2003 - founder Fred was in charge 35 years, so it seems like we're just getting started!
We've taken an idea from some larger companies we do business with, who used significant anniversary celebrations as a platform to raise money for worthy causes. We've chosen to help The Backstoppers. You probably know about them - they help families of law enforcement, fire fighters and EMTs who are killed or seriously injured in the line of duty. If you'd like to be part of this effort - it's easy and inexpensive. Please visit the 50th Anniversary page on our website or call us for more info.
To say we're grateful for all the great customers, suppliers and friends we've had the good fortune to get to know and work with over these years would be an understatement ... and of course our wonderful Arch Engraving team who get the job done and keep our customers happy and coming back. We hope to see YOU at our 50th Anniversary celebration at our Fenton location on Thursday 9/20/18. We'll have food, snacks and refreshments, tours, games and prizes, a guest speak from Backstoppers, a fire truck, the Tikiz truck (shaved ice), and so much more. Please RSVP by ordering a FREE ticket here!
---